 
FMS 1/24 Power wagon FXC24 crawler RTR car kit - Yellow
compleet met zenderset , lader en accu
The FCX24 is positioned as a high performance crawling frame. The chassis is made of high-strength nylon. Power is transmitted to the front and rear axles via the cardan shaft. The axles are equipped with wheel-side gears, commonly referred to as "portal axles", which increase ground clearance at the differential and improve crawling capabilities.
MEER INFORMATIE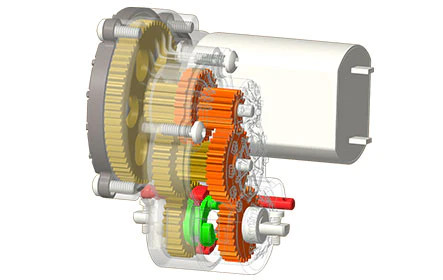 TWO-SPEED TRANSMISSION LEAVES RIVALS IN THE DUST
FMS has created the world's first 1/24th scale RC Crawler featuring a 2-speed gearbox. The torque output in Low speed is strong and great for extreme climbing and a high speed of Max. 8 mph allows you get to the rocks quicker and experience the fun sooner.
PORTAL AXLE
The axles are equipped with portal axles, which increase the ground clearance of the differential and reduce the gear ratio for increased performance.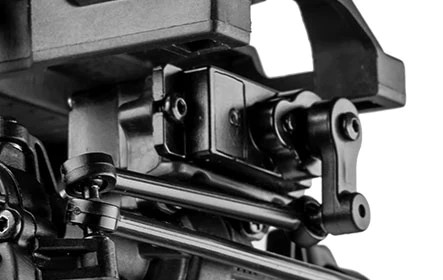 METAL GEARS STEERING SERVO
Durable waterproof metal gear steering servo allows you to control the accuracy of steering.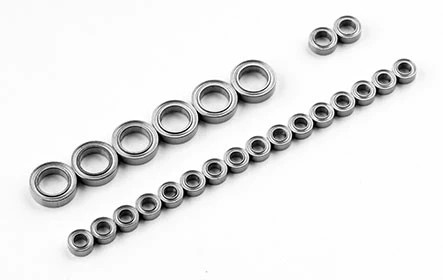 24 BALL BEARINGS PRE-INSTALLED
FCX24 is pre-installed with 24 ball bearings, providing higher performance, longer lifespan and reduced power loss resulting in longer run times.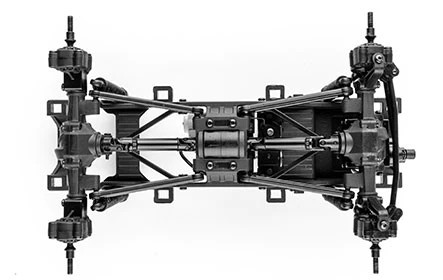 4-LINK SUSPENSION
The front and rear of the FCX24 is equipped with a compact 4-Link, improving the stability and articulation required for extreme rock crawling.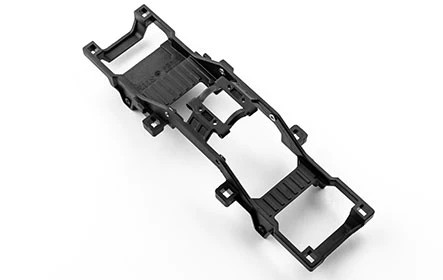 LIGHT AND STRONG
The FCX24's integrally formed frame is made of high-strength nylon rather than metal and plastic, allowing for a lower center of gravity, lighter weight and higher strength than traditional models.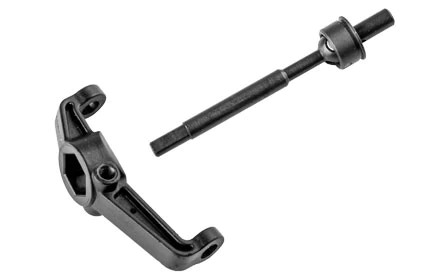 METAL CVD UNIVERSAL JOINT
The metal CVD universal joint combined with a strong transmission shaft creates a durable drive-line capable of challenging rock crawling and ensuring durability across all elements and terrains.
REMOTE CONTROL LIGHTING SYSTEM
Intelligent lighting control module, allows the headlights to switch between hi and lo beam making it possible to light up the trail day or night.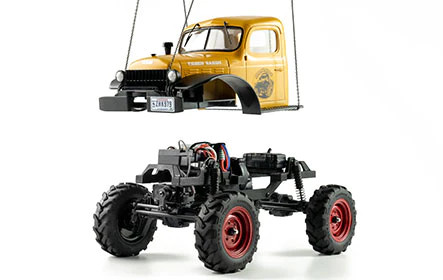 REMOVABLE HARD BODY
The FCX24's hard plastic body can be separated from the frame with just the squeeze of a couple of clips, making it easy to maintain, make technical adjustments, install performance upgrades and clean.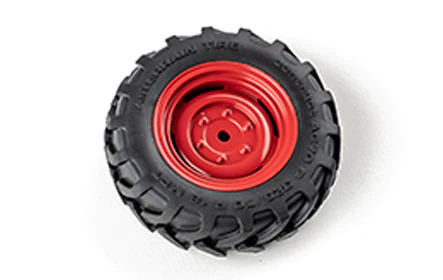 HIGH TRACTION TIRES
Made of a soft grippy rubber combined with an aggressive tread pattern, the Power Wagon's all-terrain tires have tremendous grip on rocks, mud and sand. The red paint and detailed sidewall provide a realistic and customizable look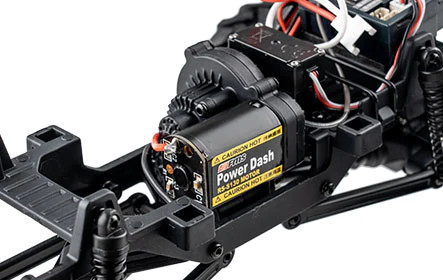 130 BRUSHED MOTOR
Hold on to your hats! The Power Wagon is a blast to drive on the open road thanks to its high torque 130 brushed motor it's also a beast on the rocks
Key features
 READY TO RUN MODEL
 TWO SPEED TRANSMISSION
 PORTAL AXLE
 24 BALL BEARINGS FULL SET
 METAL GEARS STEERING SERVO
 FOUR LINK SUSPENSION
 HIGH STRENGTH INTEGRATED NYLON FRAME
 POWER WAGON POLYSTYRENE BODY
 RAPID SEPARATION CAR BODY
 NYLON ROLL CAGE
 PAINTED BODY
 REMOTE CONTROL LIGHTING SYSTEM
 ORIGINAL PERSONALIZED STICKERS
Specifications
Radio Control: 118 x 73 x 145mm, 130g (Battery not Included)
Model Vehicle: 210 x 124 x 132mm, 390g(Battery not Included)
Tire: Φ 60×20mm
Wheel Base: 138mm
Minimum Ground Clearance: 26mm
Approach Angle: 68°
Departure Angle: > 90 °
Driving Speed: 8km/h Max
Remote Distance: 30m
Play Time: 20 minute
Composition Kit
1 x 1:24 FCX24 POWER WAGON RTR
1 x 2.4GHz Radio
1 x 2-in-1 Receiver / 20A ESC (installed)
1 x 131 Brushed Motor (installed)
1 x 3-wire 9g Metal Servo (installed)
1 x 7.4V 380 mAh Battery
1 x USB Battery Charger
1 x Hex Wrench Socket
1 x Product Manual
What you need to complete